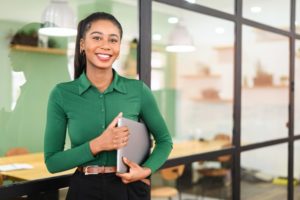 Do you have a job interview coming up? Or maybe you are seeking a promotion in your current career? Oftentimes, a new outfit or an exceptional resume is the first thing that comes to mind when you want a change in your professional career. But research has shown that a bright, beautiful smile can positively impact your career, too! Read on to learn more about the link between cosmetic dentistry and career success.
How Can Cosmetic Dentistry Improve Your Career Success?
A great smile does more than just bring you confidence and joy to others! Researchers have shown that it directly impacts your professional life. Research about the connection between cosmetic dentistry and career success found that:
Candidates whose smile was viewed as "more attractive" were perceived to be a better fit for the position, even if they were less qualified.
A person with straight teeth was more likely to be perceived with positive attributes, like trustworthiness and intelligence, which are traits hiring managers highly value.
People with whiter teeth were more likely to be hired (and were even offered a higher salary).
4 Cosmetic Treatments to Consider
As you begin to make certain career moves, you may feel more self-conscious about your smile. No one wants their stained, crooked, or other perceived dental flaws to keep them from future success. But now, thanks to advancements in technology and techniques in cosmetic dentistry, your dream pearly whites are possible! Here are six ways to improve your smile for your professional life:
Cosmetic Bonding— Your dentist can fix gaps, stains, and cracks by shaping a tooth-colored resin over the flawed area for a lifelike appearance.
Veneers— Ultra-thin, custom-designed restorations are bonded over the front surfaces of your teeth to brighten, straighten, and perfect your teeth.
Lumineers— Lumineers are an alternative type of veneer that requires fewer alterations to the natural teeth but still cover a range of cosmetic flaws for a renewed smile.
Zoom! Teeth Whitening— Bothersome discoloration can be corrected with professional teeth whitening. A whiter smile can be achieved in one dental visit!
Gum Recontouring— If you are unhappy with your "gummy" smile or your teeth appear too small, your dentist can sculpt your natural gum line to reveal more of your pearly whites.
Invisalign— These subtle and effective orthodontics can straighten and align your smile. The clear aligners are virtually undetectable and ensure a professional appearance!
Which Cosmetic Treatment is Right for You?
No matter your career, confidence matters. With a pristine smile, you can make the right impression every time. With this helpful information, a gorgeous smile and a renewed professional life can be here before you know it!
About the Practice
Dental & Cosmetic Solutions serve Cleveland and the surrounding areas through the expertise of Dr. Vladimir Pastouk and Dr. Andrea Csok. If you are seeking a renewed, beautiful smile for your career, they can help with their wide range of cosmetic services! From veneers to dental bonding to Zoom! Teeth Whitening, your teeth can finally be free of the flaws that have bothered you with their personalized plan. To schedule a consultation, contact them through their website or call (216) 868-4187.