Teeth Whitening – Pepper Pike, OH
Reveal Brighter Smiles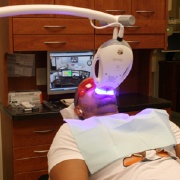 It's a sad fact that teeth stains are inevitable. Whether they happen because of daily habits like coffee and wine or because of genetics or aging, they are going to mar your smile sooner or later. Fortunately, though, those stains don't have to stick around. ZOOM! professional teeth whitening in our Pepper Pike, OH dental office may be able to brighten your teeth by several shades in a single appointment with your dentist.
The Benefits of ZOOM! Teeth Whitening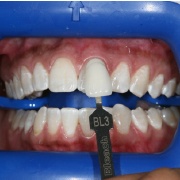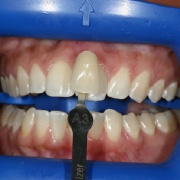 ZOOM! combines a professional-strength bleaching gel with a special UV light. Working together, they penetrate teeth to destroy stains and reveal a whiter smile. This method has a number of distinct advantages:
Since your cosmetic dentist near Chagrin Falls will supervise the treatment, you can rest assured that ZOOM! is extremely unlikely to damage your teeth.
Unlike OTC whitening products, which tend to just address stains that are on the surface of teeth, ZOOM! removes even deep-set discoloration. Your teeth could become up to eight shades brighter during your appointment.
Including your consultation and the ZOOM treatment itself, your total appointment shouldn't last more than 90 minutes. Some OTC options, on the other hand, may take weeks or even months to deliver noticeable results.
Getting the Most Out of Your ZOOM! Teeth Whitening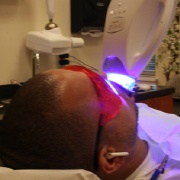 If you are diligent about caring for your new look, you can expect your whitening results to last for 2 – 3 years before you need to perform touch-ups or come in for another ZOOM! session. Here are some tips to help you maintain your teeth's luster for as long as possible:
Enjoy staining foods and beverages in moderation. Be careful not to overindulge in things like coffee, red wine, and soda.
Drink staining beverages through a straw. A straw minimizes the amount of contact that liquids have with your teeth, reducing the chances that beverages will discolor your teeth.
Avoid tobacco. Both cigarettes and chewing tobacco are notorious for causing tooth discoloration.
Use a whitening toothpaste. This will help remove and prevent surface stains.
See us for regular checkups. Your dental hygienist or dentist can give you personalized tips on how to maintain excellent oral hygiene and protect your teeth against new stains.
Other Notes About ZOOM! Teeth Whitening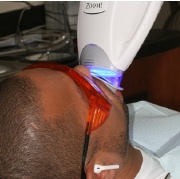 ZOOM! is an amazing treatment, and it is a viable option for most people who want to achieve brighter teeth. However, it won't change the color of fillings, bonding, or crowns. If you have such restorations on your front teeth, you might need to consider other cosmetic procedures to transform your smile.
Also, please keep in mind that your teeth may be extra sensitive and vulnerable to new stains in the first 24 – 48 hours after your treatment. It is important that you avoid anything that could discolor or irritate your teeth (such as soda, dark meats, or berries) during this critical window. When you have your procedure, your dentist will give you more detailed instructions on what you can eat and drink immediately following your ZOOM! session.
Are you ready to reveal your smile's potential? Contact us to learn whether ZOOM is right for you!
Teeth Whitening Frequently Asked Questions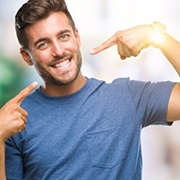 Because dental stains are unfortunately inevitable, the teeth whitening market has become a booming business in recent years. You may have tried over-the-counter whitening toothpastes, mouthwashes, strips, or gels. Usually, though, these products simply aren't capable of delivering the dramatic, gorgeous results you want. Professional teeth whitening in Pepper Pike, though, has been proven to safely and effectively blast away stubborn stains to reveal the bright smile underneath. For your convenience, we've included the answers to some frequently asked teeth whitening questions down below.
Is Teeth Whitening Right for Me?
The majority of people who are looking to brighten their smile would make good candidates for our teeth whitening treatment. However, as we mentioned earlier on this page, the bleaching gel will not change the color of artificial teeth, such as veneers, dental crowns, or bridges. In terms of natural teeth, professional whitening typically works better on yellowish-brown stains than gray stains.
During your consultation, Dr. Pastouk can examine your mouth and determine whether teeth whitening is the best way for you to achieve your dream smile.
Should I Get a Dental Cleaning Before or After Teeth Whitening?
Generally, teeth whitening is more effective on teeth that are free from plaque and tartar. Keeping up with your regular teeth cleanings is not only important for your oral health, but it can improve the results of your whitening treatment.
If you're due for your cleaning and you also want to brighten your smile, you can actually schedule both procedures for the same day. One of our hygienists will remove plaque and tartar, and then your cosmetic dentist in Pepper Pike can administer the whitening treatment. Both of these procedures can usually be completed within a couple of hours altogether.
How Much Does Teeth Whitening Cost?
There isn't really a "set" cost of teeth whitening, since smile needs can vary greatly from patient to patient. It's worth mentioning, though, that professional whitening costs more than store-bought products. This is because when it comes to dental work, you get what you pay for. If you want to attain beautiful results that last, it'll be worth the investment to undergo ZOOM! whitening.
Can I Use My Dental Insurance?
Teeth whitening is generally considered an elective procedure, so most dental insurance companies won't cover it. However, our friendly team will be happy to look over your plan to find any benefits you're entitled to. We work with a variety of insurance providers.
If you're uninsured, or you need assistance funding your whitening treatment, we can help you apply for CareCredit. This third-party financing company lets you break up your payment into manageable, budget-friendly monthly installments with low or even no interest.