Dental Implants – Pepper Pike, OH
Complete, Strong, & Beautiful Tooth Replacement
A number of dental problems can spring up when you lose a tooth. These problems can gradually deteriorate your oral health. The chewing efficiency is reduced, and the oral cavity becomes prone to infection. Teeth restoration helps patients regain the freedom to eat anything they like. Among all the methods of restoring lost teeth, dental implants from our Pepper Pike, OH dentist have proven to be the best. The implanted tooth aids the biting and chewing functions. The placement of the implant in the jawbone requires specialized skills. Dr. Pastouk has several years of experience in restorative care and has completed advanced training in dental implants.
Benefits of Dental Implants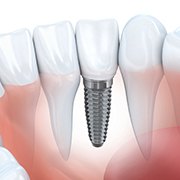 We offer dental implants because of their many benefits, including:
Longevity: With proper care, dental implants themselves can last for 30 years to a lifetime.
Strength: Rooted in the jawbone, dental implants allow you to chew and bite through all of your favorite foods with ease.
Bone preservation: Dental implants stimulate the jawbone to keep it healthy and strong, preventing deterioration after tooth loss.
Confidence: Unlike dentures that can slip and slide, dental implants are firmly rooted in the jawbone, allowing you to talk, smile, and eat with confidence.
Indications for Dental Implants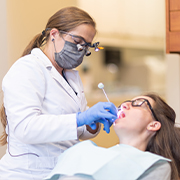 Another benefit of dental implants in Pepper Pike is that they can be used to replace one tooth, multiple teeth, or even an entire row of your smile. The restorations you need for your dental implants will differ based on the number of teeth you're missing.
Missing Single Tooth
If you're missing a single tooth, we can replace it with an implant-retained crown. After one dental implant is surgically placed in your jaw, we will mount a custom-made crown for a seamlessly beautiful and complete set of teeth.
Missing Multiple Teeth
If you're missing multiple teeth consecutively, we may recommend an implant-retained bridge. This custom-made prosthetic literally bridges the gap in your smile, and it can be supported by 2 dental implants. The result is a complete, sturdy, and strong set of teeth.
Missing All Teeth
Are you missing all or most of your teeth? In this case, we may recommend an implant-retained denture. This is a custom-made prosthetic that is held in place with an average of 4 dental implants. With this option, we can replace your entire set of teeth with maximum beauty and strength.
Start-to-Finish Dental Implant Treatment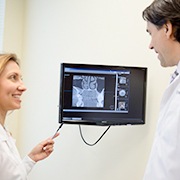 Most dentists have to send their patients to a different dental office for dental implants because the surgery requires special knowledge and training. However, at Dental & Cosmetic Solutions, Dr. Vladimir Pastouk is an experienced implant dentist in Pepper Pike who can perform the placement and restoration all at our same comfortable location. This leads to quality, consistent care that is also convenient for our patients.
Understanding the Cost of Dental Implants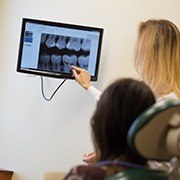 If you're considering dental implants, you may be wondering about the cost of your treatment. Unfortunately, it's hard to give you a precise estimate without examining your mouth first. That's because there are a handful of variables that can affect price, including the number of teeth you're missing and the strength of your jawbone. It will all depend on your specific smile. The best way to receive an estimate is to visit our dental office for a consultation.
What Kinds of Problems Does Tooth Loss Cause?
Tooth loss can be caused by decay, gum infection or trauma. These consequences can be very serious. Tooth restoration can help avoid the problems caused from tooth loss. Following are some of the common issues people face when they have lost a tooth:
Food lodged in the empty space can lead to gum infection and tooth decay.
The gap created by tooth loss causes an imbalance in the bite. This can lead to nearby teeth moving towards the gap.
When several teeth are missing, the jawbone starts to shrink because of the lack of stimulating forces.
If front teeth are missing, the smile suffers an aesthetic blow.
Dental Implants VS Other Restorations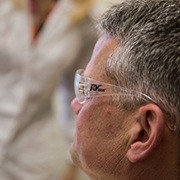 Dental implants are considered to be one of the best ways of replacing lost teeth. Dental bridges and dentures are other options, but they have some drawbacks when compared to dental implants. Here are some of the advantages patients can look forward to:
Dental implants provide higher stability.
Implant-retained teeth tend to last much longer.
Dental implants support the jawbone and help prevent bone loss.
Dental implants can be cleaned easily.
Implant-retained teeth look extremely natural.
Dental implants do not require the grinding down of nearby teeth; therefore, there is no loss of valuable teeth enamel during the process.
Dental Implant Placement
Before performing surgery, Dr. Pastouk will first need to check the oral health of patients. The jawbone should have enough volume to hold the implant. The patient should be free of gum disease as well. Necessary steps are taken to build the jawbone if our dentist finds out that the volume is not sufficient. X-rays are taken during the process and a treatment plan is set accordingly. Dental implant surgery takes place in two stages. The first stage involves the placement of implant in the jawbone. This is done with the help of local anesthetic. Titanium implants are designed to finely integrate with the jawbone. After this stage, the implant is left to heal. It may take around 3-6 months. During the first few days, there may be blood stains and pain experienced by patients. Our dentist guides patients on necessary steps that should be taken during this stage.
Sinus Lifts
In the case of the upper molars and premolars, there may not initially be enough bone tissue to support a dental implant. A sinus lift or sinus augmentation can help by increasing volume to create the right environment for a successful dental implant procedure. The sinus area on either side of the nose is opened and bone tissue is added. A bone graft will also be completed, where healthy tissue is packed into the area. The implant will be placed after a brief healing period.
Dental Implant Frequently Asked Questions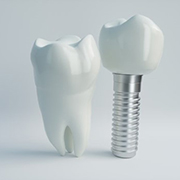 Most of our patients who have gotten dental implants in Pepper Pike go on to say they resemble their natural teeth almost perfectly. Since implants replace both the crown and the root of the tooth, they deliver benefits that alternative solutions simply cannot deliver. We know you're excited to enjoy having a full smile once again, but you probably have some questions first. That's why we've answered some frequently asked questions about dental implants in this section.
How Do I Make My Dental Implants Last?
Maintaining your dental implants isn't actually all that different from caring for your natural pearly whites. Brush and floss around your implant restoration every day as if it were a real tooth. Rinsing with an antibacterial mouthwash can clean areas that your toothbrush and floss might have missed. Avoid harmful oral habits such as teeth grinding, playing sports without wearing a mouthguard, smoking, and chewing on inedible objects like fingernails, ice, and pens. Lastly, make sure to see us at least twice a year for a checkup. That way we can detect and treat any problems with your implant early on.
Can Dental Implants Replace Front Teeth?
Absolutely! Dental implants can replace lost teeth no matter where in your mouth they were located. Once you've healed from the implant placement surgery, our dentist will capture impressions of your mouth, which are then sent to a dental lab. Professional ceramists will get to work crafting your personalized crown, bridge, or denture to mimic the appearance of your original teeth. After they arrive at our dental office and we place them onto your implants, no one else should even be able to tell they're not your natural teeth!
Does Dental Insurance Cover the Cost of Implants?
Typically, dental insurance pays for the lease expensive treatment option. Unfortunately, dental implants are not the cheapest form of tooth replacement. The good news is that more and more insurance carriers are beginning to recognize the many benefits that dental implants offer. As such, they may cover a portion of the cost. Even if they don't cover the implants themselves, they'll often mitigate the cost of preliminary work like bone grafting.
Our dental office works with a variety of dental insurance providers. We'll gladly file your paperwork for you to determine how much coverage you're entitled to.
Are Dental Implants Right for Me?
Most people who are missing at least one tooth make good candidates for dental implants. Even patients who have suffered from jawbone loss can still get implants if they're able and willing to undergo a bone graft or a sinus lift. We'll also need to ensure you're free of gum disease before placing implants. Certain chronic diseases, like diabetes, can hinder your body's healing abilities, but you may still be able to receive implants. Additionally, you shouldn't drink excessively or smoke during the healing process, as that can compromise the implants.
Ultimately, the only surefire way to find out if dental implants are right for you is to schedule a consultation with your implant dentist in Pepper Pike.