Dental Bridges – Pepper Pike, OH
Creating Complete Smiles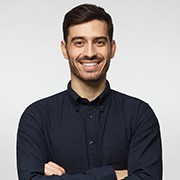 No one plans to have an incomplete smile. When gaps form as a result of tooth loss, it can be difficult trying to complete normal daily tasks like eating, speaking, and smiling. It might even seem as if there is no viable solution. Fortunately, that is not the case, and our team at Dental & Cosmetic Solutions is here to provide the answer – dental bridges. These customized tooth replacements make it easy to recapture the look of your smile while also improving your oral function. Call us today to schedule an appointment if you think you might be a good candidate for this type of treatment.
What is a Dental Bridge?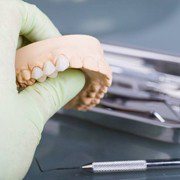 A traditional bridge consists of a pontic (artificial tooth) that is suspended between two crowns. The crowns are placed over the teeth adjacent to the missing tooth so the pontic can fill in the gap.
Bridges can be constructed from various materials, but porcelain is the preferred choice because of its natural appearance. It even reflects light in a manner similar to that of natural teeth; onlookers will never have to know that you've had some work done!
Types of Dental Bridges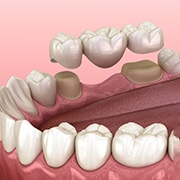 When choosing which type of bridge is right for your needs, your dentist will go over your available options and determine the appropriate option based on your preference, oral health, and budget. The two types of bridges you can expect to learn about include:
Traditional Dental Bridge
A traditional dental bridge is also known as a fixed bridge. It is made up of two dental crowns that sit on top of healthy abutment teeth that serve as anchors. In between are pontics that rest on top of the gums and fill in the gap.
Once put into place, bridges can last 10-15 years with proper care and maintenance.
Implant Bridge
The other solution is an implant bridge. Held into place by titanium implant posts that are placed in the jawbone, these prosthetics are permanent and can last a lifetime. The process involves placing two dental implant posts into the bone and allowing them to fuse with the surrounding tissues over a span of 3-6 months.
A dental bridge is then affixed to the tops of the implants, creating a secure set of teeth that will not slip or fall out.
What Are the Benefits of Getting a Dental Bridge?
When choosing a dental bridge, no matter which type, to replace your missing teeth, you'll discover there are immense benefits that cannot be matched with other tooth replacement solutions, such as:
Improved oral function that allows for clearer speech, greater bite force and chewing power, and more confidence in your personal and professional life
Improved jawbone stimulation if you opt for implant dentures, as the titanium posts mimic natural tooth roots and continue to deliver stimulation to the bone to prevent sagging
A more youthful, natural appearance
Reduced risk of dental drift since a bridge is filling in the gap and preventing teeth from moving out of alignment
Ability to keep more of your natural tooth structure if you choose an implant denture because the posts only sit within the vacated socket