Dentures – Pepper Pike, OH
Eat and Smile with Confidence Again
If there's a noticeable gap in your grin due to missing teeth, you don't need us to mention the laundry list of inconveniences that creates. You're already aware of the difficulties in speaking, eating, and smiling. Fortunately, at Dental & Cosmetic Solutions, we offer an easy way to replace your lost teeth with full or partial dentures. Keep reading below to learn more about dentures in Pepper Pike and how they can allow you to eat and smile with confidence again.
Types of Dentures
The three main kinds of dentures include:
Full Dentures
A full denture is typically what you think of when someone says the word "dentures." It consists of an entire row of prosthetic teeth attached to a pink based designed to closely resemble gum tissue. It uses natural suction against the gums to stay in place, with the help of a denture adhesive if need be.
Partial Dentures
For patients who are only missing some teeth, we typically recommend a partial denture. Partials are made of a metal framework onto which as many false teeth as you need are anchored. They use metal clasps to attach themselves to your remaining teeth while looking like a perfectly natural part of your smile.
Implant-Retained Dentures
To prevent the slipping that sometimes comes with dentures, we can secure your prosthetic teeth in place with an average of four dental implants. Because the implants fuse with your jawbone, there's no need to get them replaced every few years, making them a longer lasting and more cost-effective solution than traditional dentures alone.
Benefits of Dentures
It's not an exaggeration to say that getting dentures can change your life. When designed by a skilled dentist in Pepper Pike like Dr. Horokhivska or Dr. Pastouk, dentures can help you:
Smile confidently again
Annunciate your words more clearly
Chew a wider variety of healthy foods
Improve your oral health
The Process of Getting Dentures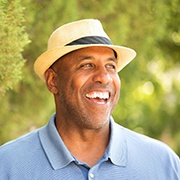 While you may have heard your grandparents complain about their ill-fitting or unnatural-looking dentures, rest assured that modern dental technology has come a long way since then. Today's dentures are more lifelike than ever before, and they're designed with your comfort in mind. Our dentists will make sure your new teeth resemble the ones you were born with to a tee by partnering with only the most skilled dental labs.
The whole process begins with a consultation. After we conduct an oral exam and take detailed x-rays to get a full picture of your oral health, we'll use these data to create an initial mold of your dentures. Over the course of the next few visits to our office, you'll try on different models and we'll adjust them accordingly until we find the perfect set of teeth for you. Once this process is complete, we'll send off the mold to our lab to cast your final dentures, and you'll return in a few weeks to have them fitted.
For implant-retained dentures (also known as All-on-4), we'll surgically place an average of four implants at strategic locations and angles throughout your jaw. In most cases, we can give you at least a temporary denture on the same day we place your implants so that you won't have to go another day without teeth!
Living with New Dentures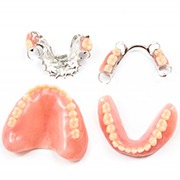 Whether you receive a full or partial denture, it may take some time for your mouth to adjust to wearing it. To help you get used to chewing, we suggest cutting your food up into bite-sized chunks at first and applying even pressure with both sides of your mouth. Reading out loud will help make speech easier. You can expect to deal with a little soreness in your gums for the first few days, but if the discomfort persists, don't hesitate to give us a call.