Cosmetic Bonding – Cleveland, OH
Quick and Easy Repair in One Visit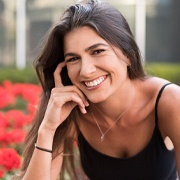 Minor tooth imperfections can be enough to drive you crazy. Whether it's stains, small chips, or slight fractures, they can cause you to miss out on fun and exciting events and opportunities as well as lower your self-esteem. The team at Dental and Cosmetic Solutions has a solution that can quickly and easily repair your smile in just one visit. With cosmetic bonding, we can cover the flaw and give you a flawless appearance in no time at all! If you're interested in learning more about this unique service, call us to schedule an appointment with our cosmetic dentist in Cleveland today!
What is Cosmetic Bonding?
Cosmetic bonding is a type of treatment that uses color-matching composite resin to hide tooth imperfections. Because it is malleable, it is easy for our dental team to shape and sculpt it into place. Many patients opt for this cosmetic service because it is more affordable than other solutions (i.e., veneers) and does not require multiple dental visits. In just one appointment, we can easily hide your flaws and send you on your way with a revitalized smile.
The Cosmetic Bonding Process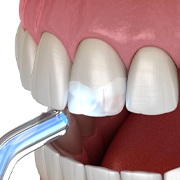 You will first need to schedule an initial consultation with your cosmetic dentist to determine if you're eligible for cosmetic bonding. If so, our team will use a shade guide to determine the correct color of the resin. Once it is prepared, we will lightly etch the front surface of your tooth enamel to ensure the resin adheres.
Applying the resin directly onto your tooth enamel, we will shape and sculpt it into place. This will allow the resin to adequately cover the flaws and blend in with your natural tooth shade. We will then use a specialized curing light to harden the resin. After a final polish, you'll receive detailed instructions regarding how you can take care of your teeth to ensure your results last as long as possible.
Who is a Good Candidate for Cosmetic Bonding?
Candidates for cosmetic bonding must have good general oral and overall health. If we discover there are any signs of tooth decay or gum disease, we'll first need to treat these problems before moving forward with cosmetic dentistry of any kind.
During your initial consultation, we will evaluate your smile to determine if you have any of the following imperfections:
Chips
Cracks
Stains
Discoloration
Minor gaps
Minor misalignment
Misshapen teeth
If so, you'll be recommended for cosmetic bonding, and we will craft a personalized treatment plan that includes information about the treatment, process, and overall cost of your care.