Transform Your Smile's Appearance with Cosmetic Dentistry in Pepper PIke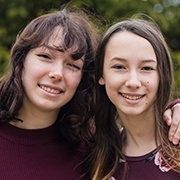 Did you know that, according to studies, roughly 75% of Americans agree that an unattractive or noticeably flawed smile can hurt someone's prospects in life? Even healthy teeth can fall victim to frustrating imperfections like stains, gaps, chips, cracks, and more. At Dental & Cosmetic Solutions, we want to help you overcome these issues and finally achieve the mouthful of beautiful, confident teeth you deserve. Dr. Pastouk and Dr. Horokhivska are passionate about the power of cosmetic dentistry, and they look forward to exceeding your expectations with their top-tier care approach. Contact our Pepper Pike, OH today to schedule a consultation.
Porcelain Veneers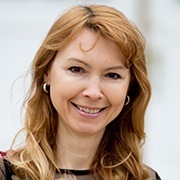 Porcelain veneers are ultra-thin, custom-designed restorations that are designed to bond over the front surfaces of your teeth in order to hide cosmetic flaws from view. They can correct stains, chips, cracks, and even orthodontic problems – no braces required!
Receiving new veneers typically requires two visits here at our Pepper Pike office. During the first appointment, one of our dentists will carefully remove a small amount of the natural tooth enamel and then capture a detailed impression. This impression is sent to our talented technicians, which craft the finished veneer. While our team waits for the permanent restoration, we will provide a temporary veneer in the meantime to protect the patient's smile. We will always do everything we can to ensure your comfort and satisfaction during this smile transformation!
Lumineers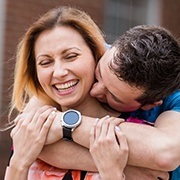 While traditional porcelain veneers are a high-quality cosmetic service that can create beautiful smile improvements for patients in need, they do require our dentists to remove some of the patient's natural tooth enamel to accommodate them. As a result, the procedure is essentially permanent. Lumineers are an alternative type of veneer that does not require the same amount of alteration, and many patients prefer them because they can improve their look while still being able to return to their natural smile in the future. Our doctors would be happy to discuss both of these options in greater detail with you during a consultation so that you can choose the one that fits your needs best.
Metal-Free Crowns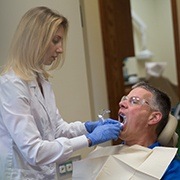 Now, patients don't have to settle for dental crowns that are noticeably unnatural. Our practice is happy to offer metal-free materials that look extremely lifelike; in fact, they even reflect light just like tooth enamel! Patients won't have to worry about harmful metals or unsightly dark lines near the gums either, and the finished crown should feel comfortable within the mouth. If you're interested in replacing your old, unattractive crown with a beautiful alternative, please don't hesitate to let our dentists know. We'd love to help your smile shine again!
Direct Bonding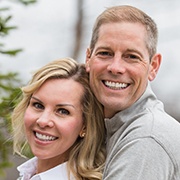 If you have a relatively small cosmetic flaw, such as a minor enamel chip or a spot of discoloration, direct bonding is a fast and easy way to correct it. During this procedure, one of our doctors will apply tooth-colored composite resin to the tooth and shape it into a lifelike addition that's hardened in place. This addition should fully hide the offending area, and the whole process only takes a single appointment. With proper care, you can expect your improvements to last for a handful of years.
ZOOM!® Teeth Whitening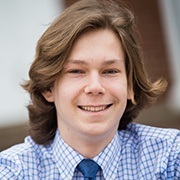 If your teeth are noticeably stained and/or discolored, it can hurt your self-confidence over time. Thankfully, our team offers an excellent teeth whitening procedure that can provide you with dramatic improvements in just a short amount of time. In fact, ZOOM! Chairside Whitening doesn't require more than an hour! This convenience is ideal for patients who are hoping to improve their look for a big event (such as a wedding or a graduation) that is coming up fast.
After our team has prepared your lips and gums so that they're safe, we'll start applying the high-strength ZOOM! Whitening gel to the teeth. This gel is used in conjunction with a state-of-the-art light that maximizes the effects and helps break up even the most stubborn staining. After three cycles of this that last around 15 minutes each, you'll be done and ready to show off your brighter smile.
Learn More About Teeth Whitening
Gum Recontouring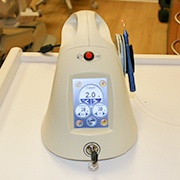 Do your teeth seem overly short? Would you describe your smile as "gummy" in appearance? An excess of oral tissue can be easily and beautifully corrected with a gum recontouring procedure here at Dental & Cosmetic Solutions. We'll sculpt your natural gum line in order to correct any symmetrical issues and also reveal attractive tooth structure that was unnecessarily hidden before. This procedure can also be helpful when a tooth is in need of restorative care and cannot be treated properly because of excessive gum tissue.
Invisalign® Clear Braces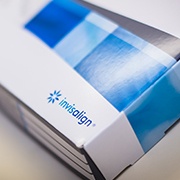 Invisalign is the ideal orthodontic option for patients who want to straighten their smiles without having to settle for metal brackets and wires. This image-friendly option uses clear aligners that are very subtle against the teeth when worn. They're also removable, which means patients can continue to enjoy their favorite foods without worry.
Full Mouth Reconstruction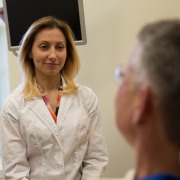 Full Mouth Rejuvenation (also known as Full Mouth Reconstruction) is used in cosmetic dentistry not only to improve the appearance of your smile, but also to correct imperfections in the position of your bite. It is basically the restoration of several or even all of a patient's teeth.
The health, strength, and overall attractiveness of your smile can be negatively influenced by a variety of factors, including gum disease, traumatic injuries, and tooth decay. Thankfully, our team can address them with any number of cosmetic or restorative procedures.
Full Mouth Rejuvenation may involve veneers, implants, crown, bridges, onlays, or dentures. The process will likely require multiple visits and advanced dental techniques that enable the dentist to complete the pain-free treatment. At the end, you'll be able to enjoy a substantially improved and healthy smile!
BOTOX® Cosmetic
Achieving a beautiful, flaw-free smile may not have the dazzling effect patients want if they're also struggling with facial wrinkles. Here in Pepper Pike, Dr. Pastouk is a true expert in facial rejuvenation, and he can provide safe and effective BOTOX injections in order to give your skin a new, youthful glow.