Feel Relaxed with Sedation Dentistry in Pepper Pike
IV Sedation dentistry can help anxious patients receive the work they need in a genuinely relaxing atmosphere here at Dental & Cosmetic Solutions. Our doctors are happy to offer this service as part of our commitment to a comfortable dental practice environment. In fact, sedation dentistry can even help us complete services that would regularly take multiple appointments to do so. We offer our patients three great options depending on their level of anxiety: strength rocks, nitrous oxide, and IV sedation. Ask our dentists today about the benefits of each during your appointment to find out what level of sedation is best for you and your procedure. Contact our Pepper Pike, OH office today if you're interested in scheduling a visit.
Nitrous Oxide/Laughing Gas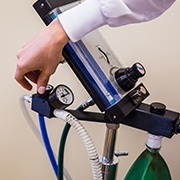 Nitrous oxide (which is more commonly called "laughing gas") and oxygen are administered through a mask that fits over the patient's nose. After a few minutes of breathing in the concoction, patients should feel happier and more relaxed. This method is safe for patients of all ages and completely non-invasive. With nitrous oxide, patients can drive to and from appointments without the assistance of an outside driver.
Strength Rocks
For anxious patients that prefer not using sedation, we provide strength rocks to help you relax, feel strong and empowered. You will be surprised at the superhero powers suddenly bestowed upon you by simply holding one of our strength rocks during your procedure.