Sedation Dentistry – Pepper Pike, OH
Feel Relaxed & At Ease in the Dental Office
IV Sedation dentistry can help anxious patients receive the work they need in a genuinely relaxing atmosphere here at Dental & Cosmetic Solutions. Our doctors are happy to offer this service as part of our commitment to a comfortable dental office environment. In fact, sedation dentistry can even help us complete services that would regularly take multiple appointments to do so. We offer our patients three great options depending on their level of anxiety: strength rocks, nitrous oxide, and IV sedation dentistry. Ask our dentist today about the benefits of each during your appointment to find out what level of sedation is best for you and your procedure. Contact our dental office today if you're interested in scheduling a visit, using sedation dentistry in Pepper Pike, OH.
Nitrous Oxide/Laughing Gas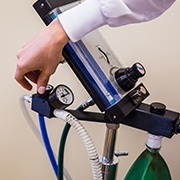 Nitrous oxide (which is more commonly called "laughing gas") and oxygen are administered through a mask that fits over the patient's nose. After a few minutes of breathing in the concoction, patients should feel happier and more relaxed. This method is safe for patients of all ages and completely non-invasive. With nitrous oxide, patients can drive to and from appointments without the assistance of an outside driver.
Strength Rocks
For anxious patients that prefer not using sedation, we provide strength rocks to help you relax, feel strong and empowered. You will be surprised at the superhero powers suddenly bestowed upon you by simply holding one of our strength rocks during your procedure.
Sedation Dentistry Frequently Asked Questions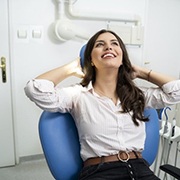 Are you ready to feel relaxed while we care for your smile? It's likely that you have a lot of questions that need answering before you're ready to try sedation dentistry. At Dental & Cosmetic Solutions, we want you to feel 100% confident in whichever services you choose, so we'll be more than happy to take the time to answer your personal questions and concerns over the phone or during your initial consultation. In the meantime, we invite you to look over these common questions about sedation dentistry so you can learn more about it. When you're ready, don't hesitate to give us a call to schedule your next appointment!
Is Sedation Dentistry Safe?
Absolutely. When administered by an experienced Pepper Pike sedation dentist like Dr. Pastouk, sedation dentistry is extremely safe. We only use the most trusted sedation techniques and will carefully review your medical history to ensure you're a good candidate beforehand. Then, during your treatment with sedation dentistry, we will carefully monitor your heart rate, breathing, blood pressure, and other vital signs to keep you as safe and comfortable as possible the entire time.
Which Type of Dental Sedation Is Right for Me?
If you are in good health but are generally anxious or uncomfortable while visiting the dentist, there's a good chance the sedation dentistry is a good option for you. We offer several options depending on your unique needs, including:
Nitrous oxide sedation: This is the lightest form of sedation. It's typically used for those who have mild dental anxiety, sensitive teeth, or an overactive gag reflex. Also, it's generally used for non-invasive or non-complex treatments and for those who want to get back to the rest of their day right away.
IV sedation: This method achieves a deeper level of relaxation suited for those with moderate to severe dental anxiety or who have neck, jaw, back, or other physical problems that make it painful to sit in the dental chair for very long. In most cases, it's used for long appointments or complicated procedures. You'll need to rest for the remainder of the day.
Strength rocks: For patients who need a bit of extra support but don't want to be sedated at all, we offer strength rocks. Simply holding one of these rocks during your treatment can work wonders on your confidence!
Will Sedation Dentistry Put Me to Sleep?
While you may feel drowsy with sedation dentistry, these methods don't "put you to sleep." Instead, the antianxiety medication calms you enough that you feel light, drowsy, and completely at-ease. You'll remain conscious throughout your treatment with either type of sedation, but you may not remember anything afterwards as if you had been asleep the whole time.
Who Isn't a Good Candidate for Sedation Dentistry?
To ensure your safety, we'll review your health and list of medications to ensure sedation dentistry is a good option for you. While most people are good candidates for sedation dentistry, we usually don't recommend it for patients who are:
Very young, of very advanced age, or pregnant
Allergic to or currently taking specific medications
Prone to sleep apnea, chronic bronchitis, or respiratory disease
Currently experiencing nasal congestion or a cough.