Veneers – Cleveland, OH
Transform Your Smile in Just 2 Days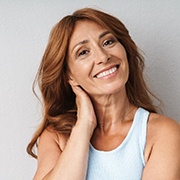 When you look at your smile in the mirror, do you like what you see? If you have flaws that take away from your appearance, you may hide your smile in public and avoid photos. At Dental & Cosmetic Solutions, we understand this is no way to live your life. That's why we offer veneers in Pepper Pike as a way to make a complete smile transformation. Keep reading to learn about the process and whether or not you're a candidate for this treatment!
What Are Veneers?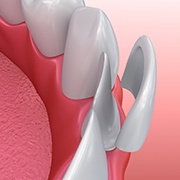 Veneers are thin shells that are designed to cover the front surfaces of teeth, erasing numerous flaws that may affect the smile. They can be made of various materials with dental porcelain as the most popular due to its lifelike qualities. Our veneers are custom made to meet your specifications, personalizing the shape, size, and shade of your smile.
The Benefits of Veneers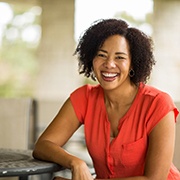 We offer veneers because of their many advantages, including:
Appearance: Get your dream smile without any of the discoloration, chips, or other flaws holding you back.
Personalization: Enjoy complete customization for amazing results.
Durability: Our veneers are built to last for years to come as long as they are cared for properly.
Convenience: In just two easy appointments, you can get the smile you've always wanted.
The Process of Getting Veneers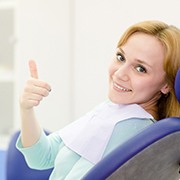 Usually, our veneers process will only take two appointments. During the first, we will prepare your teeth by removing a slight portion of your enamel to accommodate your veneers. Then, we will take impressions of your smile, which are sent to a lab for the creation of your veneers. After, you'll come back into our office for your second appointment. We will ensure that you're happy with your new smile before bonding your veneers to your teeth. All that's left to do is to walk out of our office with a beautiful and confident grin.
Are You a Candidate for Veneers?
If you're wondering whether or not veneers are right for you, the best way to know is to come into our office for a free consultation. One of our experienced cosmetic dentists in Pepper Pike will carefully examine your smile and the cosmetic flaws that affect it before developing your personalized treatment plan. Candidates for veneers are usually those with chipped, cracked, gapped, or misshapen teeth. Veneers can correct a variety of imperfections, which is why we find that most patients are good candidates for this service. If you're ready to get started, don't hesitate to contact our office today.