Invisalign® Clear Braces – Pepper Pike, OH
A Clear and Confident Way to Straighten Teeth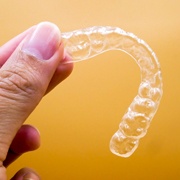 Do you dream of achieving a straighter smile but dread the thought of wearing metal braces for months or even years? Invisalign® is an excellent method for improving the alignment of teeth while still helping patients maintain their confident appearance. Please contact Dental & Cosmetic Solutions if you're interested in learning whether or not you're a candidate for Invisalign clear braces in Pepper Pike, OH.
How Does Invisalign Work?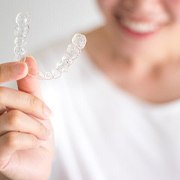 Invisalign® uses a customized series of clear plastic aligners that are designed to gradually shift teeth towards their desired alignment. These aligners are comfortable and easily removable, which means that patients can continue to enjoy their diet and brush and floss like normal at home. On average, patients will wear them for 12 to 24 months, and every six weeks, they will attend a brief progress appointment with our doctors so that we can determine whether or not everything is going smoothly.
Indications for Invisalign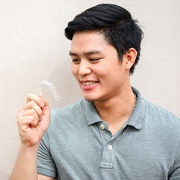 Typically, we can use Invisalign clear braces to treat most common orthodontic issues, including:
Crowded Teeth
Teeth that are too crowded affect your smile's appearance, but it can also have an impact on your health. Plaque and bacteria are attracted to tighter spaces, and because your teeth are too close together, brushing and flossing is more difficult. This leads to increased risks of problems like tooth decay and gum disease. Fortunately, Invisalign can correct this issue to give you a healthier smile.
Spaces Between Teeth
If you have gaps in your smile, your appearance may be the main reason you want to get Invisalign. However, these spaces attract food particles, impacting your chances of decay and bad breath. Our Invisalign treatment produces beautiful alignment for confident and even smiles.
Bite Alignment
Problems with your bite can lead to excessive wear and tear on certain teeth as well as jaw pain and dysfunction. We can use Invisalign to treat mild to moderate overbites, underbites, and crossbites to prevent numerous problems from occurring.
Understanding the Cost of Invisalign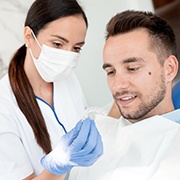 Factors that Affect the Cost of Invisalign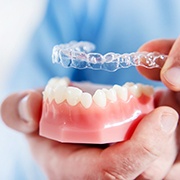 Before providing you with a price estimate, our Invisalign dentist in Cleveland will assess the severity of your misalignment, take into account any necessary preliminary treatments (like fillings), and determine how many aligners you'll need. Of course, other factors will play a role as well, like how diligent you are about wearing your trays and if any of your teeth need a little extra help moving into their properly aligned positions.
Invisalign vs. Smile Direct Club™: Which Costs More?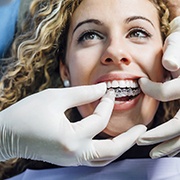 Does Dental Insurance Cover Invisalign?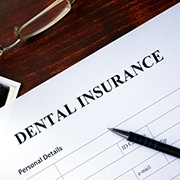 While it is possible, most dental insurance providers do not cover Invisalign. However, there is no harm in double-checking. You can review the fine print on your dental plan, give your carrier a call, or ask our team for help! Whether you're a new visitor or a long-time patient, we'd be more than happy to help explain your benefits. And, if you don't have any available, we'll review our other payment options.
Options for Making Invisalign Affordable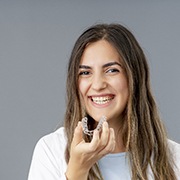 With the following payment options, you don't need to rely on dental insurance to lower your out-of-pocket expenses:
Affordable Financing: Need to break down the cost of Invisalign into manageable monthly payments? CareCredit is a third-party lender that offers little-to-ZERO interest payment plans. As a result, patients with all types of budgets can achieve their smile goals.
In-House Savings Plan: Want the benefits of dental insurance without the deductibles, waiting periods, and restrictions? With us, you can! Our in-house savings plan allow you to enjoy free services, big discounts, and more!
Special Offers: In addition to happily accepting flexible financing and offering an in-house savings plan, we also extend periodic specials to help you save on your treatment.
Invisalign® Frequently Asked Questions
What is Invisalign®?
Invisalign® is a system of aligners that is fabricated by Align Technology. The aligners are made of BPA-free thermoplastic. They look similar to teeth whitening trays. The aligners are specifically made for each patient.
How does Invisalign® work?
The Invisalign® system relies on a series of aligners. Each pair of these aligners is designed to move teeth slightly to the desired position. A controlled force acts on selected teeth during the treatment process. Patients should switch to the next aligners after every two weeks. The teeth are straightened gradually over time.
How is Invisalign® beneficial?
Invisalign® aligners are virtually invisible. Patients can undergo the treatment and not let the world know about it. Since the aligners are removable, it is easy to maintain oral hygiene and patients can eat their favorite food without restrictions.
How long does it take for the Invisalign® to straighten teeth?
The length of your Invisalign® treatment depends on the complexity of the condition. The treatment may vary from as less as 12 months to as much as 24 months.
How to use Invisalign® aligners?
The aligners should be worn at least 22 hours each day. They should be removed when eating or drinking anything apart from water and when it's time to brush and floss. Patients can clean the trays using special system that our team will provide. It is advisable to place the aligners in their special case when not in use.
When should I see my Invisalign® dentist?
Patients should visit our dental office every four to six weeks on average so that we can check the progress of the treatment.
Do aligners cause pain and discomfort?
Invisalign® aligners are made of smooth plastic that causes no discomfort to cheeks and lips. Discomfort or a sensation of pressure may be felt during the first few days when wearing a new aligner.
What are the things to avoid when wearing aligners?
Patients should avoid smoking when wearing aligners since it may cause staining. Chewing gum with aligners on should be avoided as it can cause the gum to stick to the appliance. Alcohol consumption in high levels should also be avoided.
What happens after treatment?
The patient may be advised to wear retainers after the Invisalign® treatment just to make sure that the teeth do not shift back to their previous positions. Our dentist will explain this information in more detail at the end of your orthodontic journey.
Can any dentist perform Invisalign® treatment?
Invisalign® treatment can be performed only by trained providers!