All-on-X Dental Implants – Pepper Pike, OH
An Efficient Way to Replace All Your Teeth
When you've lost a single tooth, all it takes is one dental implant to fill that gap. But when all of your teeth are missing, you won't have to get an individual implant for each one; in fact, you won't need more than four! Thanks to her expertise and experience in placing and restoring implants, Dr. Csok can proudly offer All-on-X dental implants in Pepper Pike, OH – a procedure that can help you enjoy the benefits of implant-retained dentures sooner than you might think. Call us today to schedule an appointment and learn more about this procedure!
How Do All-On-X Dental Implants Work?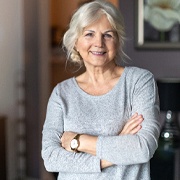 Like with all dental implant procedures, All-on-X involves the placement of titanium implant posts in strategic areas of your jaw so that they can support dentures. In many cases, your implants will be stable enough to bear the load of temporary new teeth so that you can eat, speak, and smile normally while waiting for your mouth to completely recover.
Am I A Candidate for All-On-X Dental Implants?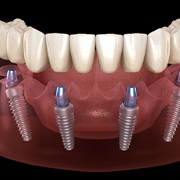 Typically, anyone is considered a potential candidate for implants if they have lost one or more teeth. All-on-X is specifically meant to replace the entire upper or lower arch. Since this particular procedure maximizes the use of places in the jaw where bone density is naturally higher, even patients that have suffered bone loss after losing their teeth might be viable candidates for All-on-X without the need for a graft. We will still need to treat gum disease or any other existing oral health issues before we can schedule the surgery, however.
What Are the Benefits of All-On-X Dental Implants?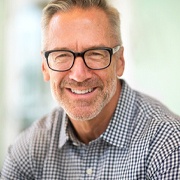 No Waiting for New Teeth: Most of the time, temporary dentures can be placed on the same day as the implant surgery. That means enjoying a new and improved smile right away!
Improved Appearance: Implant-retained dentures look and feel natural, and the stimulation that your jaw receives will stop it from breaking down so that it can continue supporting the rest of your face.
Long-Lasting: Dental implants have been known to last the rest of your life, and they don't require much in the way of special maintenance to do so.
Enhanced Confidence: The strength and stability of your new teeth will help you enjoy your favorite foods again without worrying about your teeth slipping, and you won't have to worry about them moving around whenever you laugh or smile.
All-On-X VS Traditional Dental Implants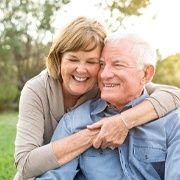 While traditional implant procedures remain a reliable solution for patients that have suffered any amount of tooth loss, All-on-X does have several important advantages:
It typically does not require preparatory procedures such as bone grafts.
There is usually less recovery time required since fewer implants are used.
If temporary dentures can be placed, you won't have to go without teeth for several months.