Single Tooth Dental Implants – Pepper Pike, OH
Restoring Teeth From the Roots Up
A single missing tooth can cause a lot of problems for your smile. While it may not seem like it at first, over time, if left untreated, you will begin to notice changes in the way your teeth align as well as their stability. A tooth's root is meant to stimulate the jawbone, so when a tooth is missing, the bone will begin to weaken with time. Fortunately, to prevent this from happening, the dentist at Dental & Cosmetic Solutions can offer single tooth dental implants in Pepper Pike, OH. These unique and transformational restorations can repair and restore smiles from the root up. To find out how you can get started, contact our dental office today.
Single Tooth Replacement Options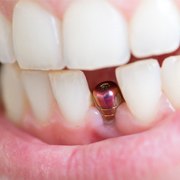 Unlike partial or full dentures that replace multiple or an entire arch of teeth, there are two options available to replace a single missing tooth:
Fixed Bridge: Using your healthy teeth that exist on either side of the missing tooth, your dentist in Pepper Pike will file these teeth down in preparation for the custom restoration that will be placed. After capturing impressions of your smile, dental lab technicians will build a unique dental bridge that matches your natural tooth color. The bridge will be permanently affixed to your natural teeth, allowing the dental crown in the middle to sit on top of your gums.
Single Tooth Dental Implant: Patients who prefer a more stable solution can opt for single tooth dental implants. Surgically placed into the jawbone, there is no need to alter your natural teeth. Once you've spent a few months healing at home and allowing the implant to properly fuse to your bone and surrounding tissues, you will return to have your customized dental crown placed on top of the implant, creating a seamless, blended smile.
Benefits of Single Tooth Dental Implants
Single tooth dental implants are far superior to any other type of tooth replacement solution. Why? Because of the multitude of benefits they provide to patients looking for a longer-lasting restoration. Some of the advantages you will find with dental implants include:
Improved appearance and increased confidence in the way you look and feel
Greater oral health because of the continued stimulation to the jawbone
Restorations that are easy to clean and maintain over time
Restorations that can last 30+ years with proper care
No chance for decay since your dental crown is artificial
Fewer food restrictions than other forms of treatment, as your implant acts as a natural tooth
Completely natural in appearance, blending in beautifully with the rest of your smile