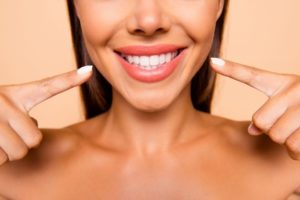 Your smile is one of the first things that people notice about you—so knowing that your pearly whites look healthy and bright will go a long way towards making great first impressions! And one way to ensure that your teeth look their best is by seeking cosmetic dental treatment. Options like teeth whitening, porcelain veneers, and more are capable of addressing a wide range of issues that diminish the beauty of your smile and in turn, your self-confidence. Here's a closer look at teeth whitening vs. veneers and what each of them are capable of doing for you, so that you can pick the best route for enhancing your smile.
What Is Teeth Whitening?
There are many reasons for tooth discoloration. Sometimes it can occur naturally and for explanations beyond our knowledge or control, and other times, it's heavily self-inflicted. But no matter how your teeth have become stained, they can likely be noticeably brightened with teeth whitening. Your dentist has access to special whitening agents that are more effective than anything you can purchase yourself. They can safely polish your teeth in a matter of minutes and remove any visible surface staining in one quick visit, with results fully manifesting in a week or two and lasting for up to three years. They can also send you home with a kit containing everything you need to whiten your smile on your own schedule.
What Are Porcelain Veneers?
Sometimes, a smile needs more help than what teeth whitening can offer, or teeth whitening simply isn't able to give patients the results they're looking for—and in these cases, veneers can often get the job done. Veneers are hard coatings (usually made of durable dental porcelain) that are bonded to cover the front surfaces of teeth. Not only do they noticeably brighten your smile, but they're also capable of addressing many other aesthetic issues such as chipped or cracked teeth, gaps between teeth, and more. With proper care, they can last for 10 or 15 years, making them a long-term solution compared to teeth whitening.
Which Treatment Is Better for My Smile?
Cosmetic dentistry is elective, meaning that patients pick and choose which procedures, if any, they'd like to receive. That said, picking the right cosmetic option for your smile depends entirely on the desired results—as well as what your dentist can and will perform on you. If your teeth are stained, but otherwise relatively healthy and uniform, teeth whitening might be your best bet. However, if you feel like your smile needs a little more than just a paintjob, or if you have noticeably damaged or compromised teeth, you may be more interested in veneers.
In any case, your dentist can work with you to draft an acceptable treatment plan. It's also worth noting that both procedures are relatively pain-free and pose very little health or safety risk. Whether you go with teeth whitening or porcelain veneers, your smile is sure to look fantastic.
About the Author
Dr. Vladimir Pastouk has proudly served patients and families in the Cleveland area for several years. Dr. Pastouk attended the Nova Southeastern University College of Dentistry and is an active member of many professional organizations including the American Academy of Cosmetic Dentistry. His practice is pleased to offer many services including cosmetic options like teeth whitening and veneers. If you have any questions about the article or would like to arrange a visit, you can contact Dr. Pastouk through his website or over the phone: (216) 292-3600.