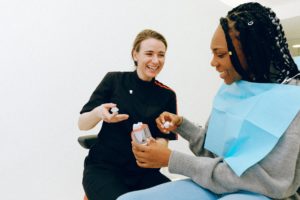 If you have severely damaged or missing teeth, you don't need to live with the daily struggles of a less than perfect smile. Your dentist can repair or replace compromised teeth using the latest advancements in dentistry. You'll improve your oral health and quality of life while giving your confidence a boost. Although every treatment plan is unique, here are 5 full mouth reconstruction procedures that might be right for you.
1. Dental Crowns
A dental crown is a cap that covers the entire surface of a tooth above the gum line. Your cosmetic dentist in Pepper Pike may recommend the restoration for several reasons, such as to protect a weakened tooth from breaking or to treat a fracture. Crowns can also be used along with other procedures, like root canal therapy or dental bridges. No matter the reason, your restoration will be made of all-ceramic material to look natural.
2. Dental Implants
Dental implants in Pepper Pike are the most successful solution to treat missing teeth. A titanium post is inserted into the jaw to serve as a new root. An abutment is connected to the post to attach your custom-made restoration. By replacing the entire tooth structure, your dental implant will closely look and feel like your real teeth.
3. Root Canal Therapy
Your cosmetic dentist in Cleveland can save an infected tooth from needing to be removed with root canal therapy. The endodontic treatment will extract the inner layer of the tooth called the pulp. Your tooth will be sterilized and sealed before a dental crown is bonded over it. Although they have a bad reputation for being uncomfortable, anesthetics and new dental methods make the treatment virtually pain-free.
4. Dental Bonding
You can repair a damaged tooth or enhance its appearance using a minimally invasive procedure. A composite resin material is customized to match your enamel to correct minor imperfections, like discoloration, chips, or cracks. The resin will blend in with your enamel, so no one will notice it's there.
5. Tooth Extractions
Your dentist strives to preserve your natural teeth for as long as possible. Unfortunately, there are times they may recommend having a tooth removed, such as from extensive decay or infection. If you need any extractions, your dentist will suggest replacing the teeth using an effective treatment, like dental implants in Cleveland.
Rehabilitate a Beautiful Smile
You don't need to feel embarrassed by a less than ideal smile or deal with persistent dental pain. Your dentist will create a personalized strategy to reinstate your oral health while giving you a smile you'll be proud to show off with full mouth reconstruction.
About Dr. Vladimir Pastouk
Dr. Pastouk strives to provide world-class services to ensure every smile is perfect. Besides earning his dental degree, he regularly continues his training and has performed thousands of medical and dental surgeries. With a focus on dental implants and cosmetic treatments, he can handle even the most complex oral health cases. If you're interested in full mouth reconstruction, don't settle for less than the best. Contact our office today to schedule your consultation.