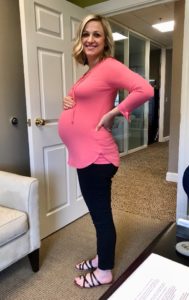 Pregnancy is an exciting time, and it goes without saying that you want to do what you can to stay healthy and glowing throughout those 9 months. Eating well and getting plenty of sleep can go a long way, but there is one other step that shouldn't be overlooked: your oral health and hygiene! Taking excellent care of your smile matters more than you might think. Keep reading to find out why, and what you can do to keep your teeth and gums healthy during pregnancy.
How Pregnancy Affects Oral Health
Hormone fluctuations that occur during pregnancy can have a big impact on the oral environment. Because the gums are a gateway to the bloodstream, keeping them healthy will also protect baby. Many pregnant women will experience a form of gum disease called "pregnancy gingivitis." This condition is often mild and temporary, but visits to the dentist are even more important during pregnancy because if allowed to worsen, pregnancy gingivitis can turn into full-blown gum disease — which can increase the risk of preterm labor and low birthweight.
What's more, morning sickness that is experienced by many pregnant women can also negatively impact oral health. Frequent exposure to the acids in the stomach may wear away at the tooth enamel, increasing the likelihood of sensitivity and tooth decay.  
Steps to Take During Pregnancy
With a little extra attention to your oral hygiene routine along with additional visits to your dentist's office, you can feel good knowing you are doing your part to keep your smile healthy and protected from tooth decay and gum disease while you are pregnant. It is recommended that pregnant women have a dental checkup every three months, or once during each trimester. Not only is it completely safe to visit the dentist during pregnancy, but not doing so could be damaging to your (and baby's) health.
Keep these tips in mind to keep your smile healthy while you are pregnant:
Brush teeth for two minutes after each meal or at least twice a day

Floss between teeth at least daily

Drink plenty of water and maintain a balanced, low-sugar diet

Rinse the mouth out with water after vomiting when experiencing morning sickness

Let your dentist know if your teeth become more sensitive or if you notice signs of gum disease

Follow your dentist's recommendations for positive oral health
Taking excellent care of your smile during pregnancy is as important for you as it is for your baby. Fortunately, your dentist in Chagrin Falls is there to partner with you along every step of the way! For the best outcomes, don't hesitate to schedule an appointment during the first trimester of your pregnancy.
Meet the Practice
Dental & Cosmetic Solutions offers comprehensive dental services for the whole family in a state-of-the-art environment in Pepper Pike. From general checkups and cleanings to advanced restorative solutions, they do it all — including providing important dental care during each trimester of pregnancy! To book an appointment for yourself or a loved one, go ahead and get in touch with the office by calling (216) 292-3600.