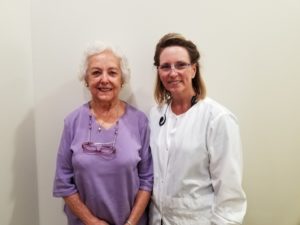 Meet Betty — this dear patient of ours is 91 years old and going strong! We always love to see Betty, not just because of her wonderful personality, but also because she is so diligent about caring for that beautiful smile of hers. In fact, she still has her natural teeth! We hope that all of our patients can be like Betty and keep their natural pearly whites for a lifetime.
The Benefits of a Full Smile
Due to genetics, illness, or accidents, it is sometimes impossible for patients to keep all of their natural teeth. When these unfortunate circumstances occur, we're happy to discuss tooth replacement options. However, we much prefer that our patients keep the teeth that nature bestowed on them. By doing so, they can reap a number of significant benefits:
A healthier diet. Missing molars and other teeth make it difficult or even painful to chew food properly. A poor diet that is lacking in essential nutrients may be the result. With a full set of teeth, you're able to enjoy all of the wholesome fruits, veggies, and proteins that are necessary to keep your body strong.
Stronger bones. The roots of your teeth help to fortify your jawbone. Without those roots, the bone begins to deteriorate.
Better overall health. The problems that lead to tooth loss, such as gum disease, diabetes, and high blood pressure, can have a devastating effect on overall health. By sticking to habits that promote strong teeth and a sound body, you may be able to manage diabetes better and even prevent problems like heart disease and other systemic illnesses.
Tips for Maintaining Oral Health in Your Golden Years
Everyone, regardless of their age, should stick to a solid oral hygiene routine that includes twice-daily brushing, daily flossing, and regular checkups with a dental professional. However, there are some unique challenges that may make it difficult for older individuals to maintain a healthy mouth. Here are some tips on how to cope with these issues:
Use an electric toothbrush. If arthritis, tremors, or other health problems make it difficult for you to grip a manual toothbrush, invest in an electric one. These provide more cleaning power in less time and do much of the work for you.
Fight dry mouth. Certain medications or changes within your body can decrease saliva production, which in turn endangers your teeth. Drinking more water or sucking on sugar-free candy can help keep your mouth moist. You may also need to speak to your doctor about adjusting any medications that cause dry mouth.
Be aware of your gums. Older individuals are at a greater risk of gum disease. If you notice any changes in your gums — for example, if they seem red or swollen — see your dentist right away. You should also stick to daily habits that can help fight gum disease, such as eating wholesome foods and using an antibacterial mouth rinse.
Do you want to be like Betty? By doing your best to keep all of your teeth no matter what your age, you'll be able to enjoy a healthier body and a better quality of life.
About Our Practice
Dr. Maryana Horokhivska and Dr. Vladimir Pastouk are the two talented dentists in our practice. They love to form lasting relationships with their patients and help them maintain oral health throughout every stage of life. Whether you are young, old, or somewhere in between, they would be happy to assist you with any oral health concerns you may have. To schedule an appointment with Dr. P or Dr. H, contact our office at 216-292-3600.