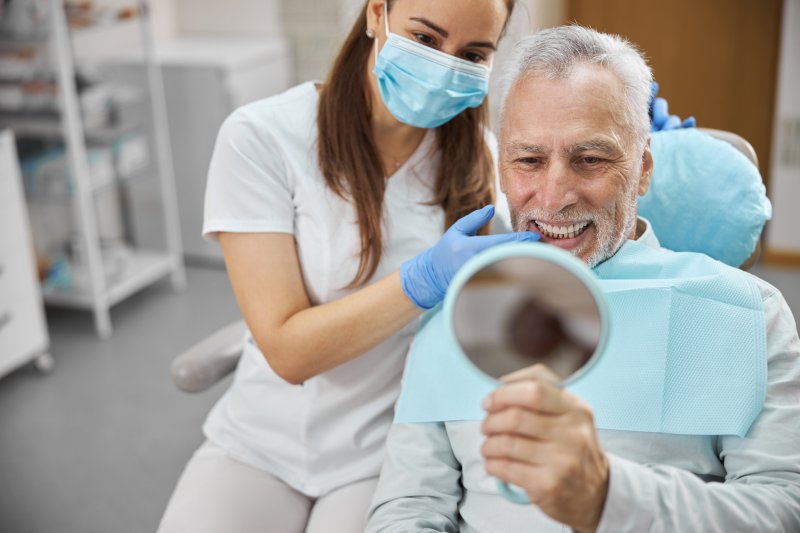 As a senior, there's a good chance you've suffered some tooth loss. That's only natural – teeth tend to fall out when you reach a certain age. Still, you may think you're too old for restorations like dental implants. After all, isn't it natural to "age out" of various services? However, the truth is the opposite: implants benefit even the most elderly patients. To learn how that's possible, let your Cleveland dentist explain. Here is a summary of how implants can help you – whether you're 65 or 105!
Can You Be Too Old for Dental Implants?
Contrary to rumor, implants are as effective in older people as in younger ones. It's to the point that dentists recommend seniors get them instead of dentures.
You see, implant candidacy has more to do with health than age. So long as a patient is reasonably well, even those with only a few years of life can get treatment. A 2004 study even showed that implant success rates for patients over and under 80 were roughly the same. In other words, the research found both patient groups had highly successful treatment.
How Does Treatment Work for Seniors?
Dentists will first perform an oral exam when assessing an elder for implants. At that time, they'll look at general health, oral health, bone health, and medications. If the senior meets the right criteria, the dental team will place the implants as usual.
With dental implant surgery, older patients mainly differ in terms of aftercare. The aged, naturally, recover at a slower rate than the youthful. That said, a dentist can compensate by waiting four months (instead of the standard three) to place the final restoration.
Otherwise, seniors adjust to implants like any other patient. They might face discomfort for a few days after surgery, but this ache can be treated with mild painkillers.
Dental Implant Benefits
Once older patients get implants, they can expect the following benefits:
No Slipping or Falling: Due to fusing with your jaw, implants are permanent and stay in place. There'll be no need to worry about them slipping or falling.
Better Eating: By replacing both tooth roots and crowns, implants restore much of your bite force. The result is that they let you eat soft and tough foods alike!
A Fuller Face: Since implants stimulate your jawbone, they prevent facial collapse. Consequently, you can count on them to keep your face full and vibrant.
Ultimately, dental implants have no age limit. Therefore, see your dental provider about treatment in the coming days!
About the Practice
Dental & Cosmetic Solutions is based in Cleveland, OH. Led by Drs. Pastouk and Csok, our practice provides effective and comprehensive dentistry. To that end, we perform high-quality preventive, cosmetic, and restorative treatments, including dental implant placement! You can also count on us for Invisalign clear aligners and even emergency smile care. For more information or to book a visit, you can reach us on our website or by phone at (216)-292-3600.