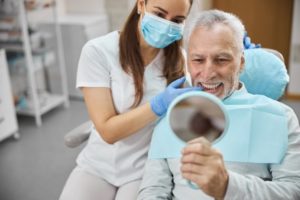 If you have missing teeth, you might be wondering what your options are for replacing them. If you're familiar with dental implants, you probably know all about how incredibly effective they are when it comes to restoring lost pearly whites. But are dental implants still a viable solution for older patients? Keep reading to learn more about this treatment option and how implants are still an excellent choice for patients of all ages, along with some of the priceless benefits that they have to offer.
Who Is a Good Candidate for Dental Implants?
Not just anybody can receive dental implants; regardless of how old you are, your dentist must first check for a few things. They have to ensure that you're generally healthy, and this includes your oral health. If your gums are compromised because of gum disease or some other problem, you might not be eligible for implants until the issue has been resolved. Similarly, if your jawbone lacks the sufficient density to support implants, a dental bone graft might be necessary. Even being on specific medications can affect your candidacy for dental implants. Your dentist is the only person who can determine if dental implants are a viable solution for your smile.
Am I Too Old for Dental Implants?
That said, there is no upper age limit for dental implants, assuming your dentist can clear you for the procedure! In fact, a 2004 study took into account the success rates for two groups of patients with dental implants. One group consisted of patients with implants that were over 80 years old, and everyone in the other group also had implants but were all under 80. The study found that both groups actually had similar dental implant success rates, meaning that age is a somewhat irrelevant factor when considering the impact that dental implants can have. Of course, it's important to note that as patients age, dental care can become increasingly difficult, meaning that poor oral hygiene is still a factor that contributes to implant failure.
4 Priceless Benefits of Dental Implants
You should also know about the many awesome benefits that dental implants have to offer patients of all ages. Here are four of them:
The offer impressive durability and longevity – Implants are crafted from strong, biocompatible materials that fuse with your jawbone for a lasting connection. They can last for 20 years or beyond with proper care.
They encourage jawbone preservation – Your teeth are responsible for providing stimulation to your jawbone, in order to prevent it from deteriorating prematurely. Dental implants replicate this stimulation, as they're surgically implanted into your jawbone.
They are natural-looking in appearance – Dental implants aren't just about functionality; they also look exactly like your natural teeth! People won't even be able to notice that you have implants unless you tell them, and they will also make you look much younger in the face!
They're easy to maintain and clean – Implants don't require any sort of specialized care or maintenance; simply care for them as you would your natural teeth by brushing and flossing daily. You should also regularly visit your dentist so they can inspect the integrity of your implants.
Missing teeth can frequently result in additional missing teeth, meaning that replacing your lost pearly whites is your best option for ensuring optimal health. That said, dental implants can offer an effective solution, regardless of your age!
About the Practice
Dental & Cosmetic Solutions is honored to serve patients and families in the Pepper Pike area under the leadership of Dr. Vladimir Pastouk and Andrea Csok. Together they combine several years of experience in a wide variety of fields to provide their patients with an exceptional level of dental care. Their practice is pleased to offer many available services including dental implants. If you have any questions about dental implants or would like to schedule an appointment, feel free to contact the practice online or by phone: (216) 292-3600.