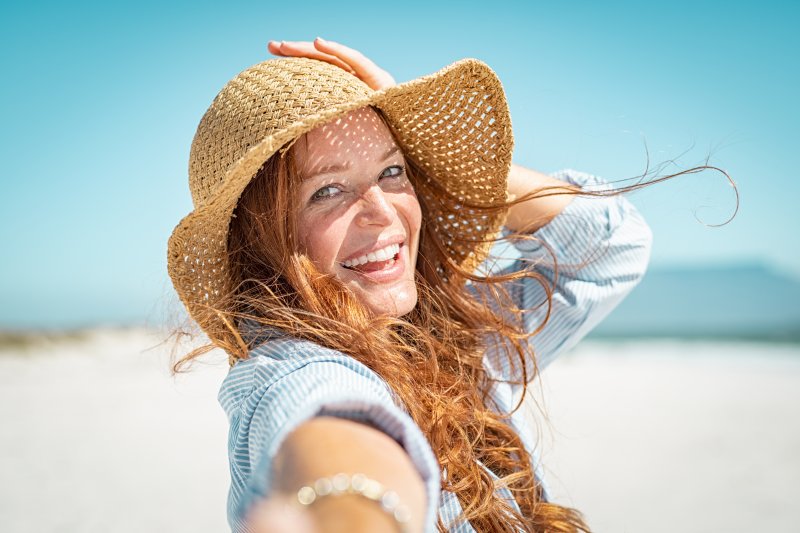 Summer is officially upon us! Now that travel restrictions are easing up, you may be planning a weekend getaway or a beach vacation. Are you ready to flash your smile this season? If not, that's okay – cosmetic dentistry can help! There are many services available to help you achieve a grin you can proudly show off these coming months. Your Cleveland cosmetic dentist shares five treatments that can boost your confidence.
Porcelain Veneers
Do you have various flaws and imperfections that you want to correct? Stains, chips, cracks, or gaps – porcelain veneers can hide them all! The thin, durable, custom-made porcelain shells are bonded to the front surfaces of your teeth, concealing cosmetic flaws from view. After just a few visits, you can enjoy a beautiful, new, natural-looking smile!
Metal-Free Crowns
Thanks to metal-free crowns, you don't have to settle on restorations that stand out every time you laugh or speak. Metal-free crowns uses extremely lifelike materials – they even reflect light just like natural enamel! Now, you can repair broken or decayed teeth and keep a healthy smile that looks exactly like the one you had before.
Dental Bonding
Sometimes, even the tiniest imperfection can make a significant impact on your self-esteem. If you have a minor flaw, such as a chip or spot of discoloration, dental bonding is the quickest, most effective way to correct it. A composite resin is applied to the flawed tooth and sculpted to perfection, hiding the offending area and making it seem like it was never there. The best part? The entire process can be completed in as little as one hour!
Teeth Whitening
Are your teeth noticeably stained, discolored, or dull-looking? It happens to all of us over time. Luckily, professional teeth whitening treatment can remove even the most stubborn stains in no time! It's an ideal solution for patients hoping to enhance their appearance just in time for a wedding, graduation, or vacation. In just a few sessions, you can sport radiant pearly whites that will shine through all your summer selfies!
Invisalign
The days of metal braces being the only solution to misaligned teeth are over. Today, most dentists offer Invisalign orthodontic treatment so you can discreetly and comfortably achieve a straighter smile. It uses a series of clear aligners to shift teeth gradually into their final position. The smooth, thin plastic trays are virtually invisible – no one will even notice you're wearing them! Plus, they're removable, meaning you can continue to enjoy your favorite summer foods without worry.
Don't let your teeth hold you back this summer. Consider one of these cosmetic dental treatments and make your dream smile a reality!
About the Author
Dr. Vladimir Pastouk brings over two decades of experience to Dental & Cosmetic Solutions. After graduating from the Kiev Medical University School of Dentistry in Ukraine, he relocated to the US and participated in thousands of medical and dental surgeries. Then, Dr. Pastouk chose to dedicate himself to implant and cosmetic dentistry. If you're ready to achieve a beach-ready smile, schedule an appointment with Dr. Pastouk via our website or call (216) 292-3600.